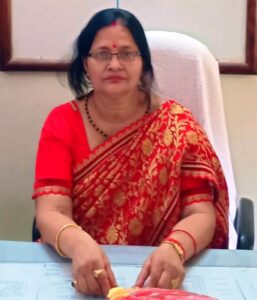 G.D. Binani P.G. College is a prestigious Arts and Commerce college of Mirzapur. I feel proud of helming it and guiding it into its Golden Jubilee year during my tenure. Our students, teachers, office and support staff are the strength of this college, through whose support and joint efforts I hope to steer it to greater heights in the coming years. The foundation stone of Govardhan Das Binani Post Graduate College was laid in 1966, and classes formally began on 16 September 1969. Since then, the number of students have increased from a mere 62 to around 3500 at present, and it is ready to stride into its glorious Golden Jubilee year in 2016. The original venue of the college was at Binani Dharmashala, Dhundhi katra, Mirzapur. Thereafter it was shifted in 1970 to its present location at Bharuhana Crossing. Our college has Arts and Commerce Faculties, of which the first batch of B. Com started on 16 Sept 1969 with just 27 students, the first college in Mirzapur for imparting Commerce education at graduation level. The Arts Faculties started on 27th of September in the same year with merely 35 students. In Arts and Humanities we started with the following subjects: Hindi, Sanskrit, Education, Sociology, Ancient History, Medieval and Modern History, Political Science, Geography, Psychology and Economics and have continued with it ever since. In the year 1972 we started Post graduation in Commerce.
However, in today's world, the nature, form and medium of education have all undergone a sea change. Education has since become more demanding, information-based and competitive. Thus along with academic excellence, we aim at giving, our students opportunities for their all- round development. To this effect, we conduct regular games and sports activities, Rover-Rangers Meet and Competitions, cultural activities, extension lectures and educational tours to encourage our students and develop interest in learning.
The Annual publication of the College magazine, 'Govardhan' offers a platform to our students, teachers, alumni and other staff members for giving expression to their creative imagination and talents.
In order to cater to a large number of students and such people of this town who are unable to study through the usual academic programmes, we have Centre of IGNOU and UP Rajarshi Tandon Open University in our college campus. I feel immensely happy and satisfied to report that our students are doing extremely well in their lives. We have produced university gold medalists and recipients of President's Medal.
Nevertheless, the institution that rests easy on its past achievements and laurels, fails to grow any further. Therefore, we have now decided to gear up for our next challenge, i.e. getting our college accredited by the National Assessment and Accreditation Council (NAAC) of UGC.
Principal
Prof. Dr. Veena Devi Singh